The generally accepted concept of cooling tower performance was developed by Merkel [1, 2]1 in 1925. A number of assumptions and approximations were used to simplify the development of the final equation. Accuracy is sacrificed as a result, but modifications may be made in the application to minimize the extent of the resulting errors. The development of the final equation has been covered in many texts and references. The procedure, therefore, is well known, but it is probably not so well understood. One reason for this is that the authors have taken short cuts and omitted steps to arrive at the
final equation.
Please click the link below for a detailed explanation of the procedure.
A Comprehensive Approach to the Analysis of Cooling Tower Performance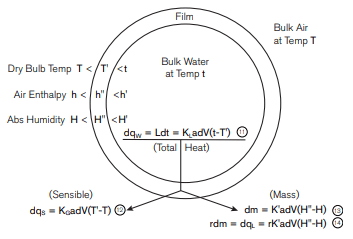 Do you need cooling tower parts, service, or inspections? Are you considering refurbishing your cooling system or replacing it all together – or maybe you just want to talk to someone about advancements in cooling technology, system efficiency and current industry standards?
If so, give us a call at 908-541-1010 or click on the (contact us) link at the bottom of the page. Our sales engineers are ready to answer your questions and discuss your needs.